Feather Flags

Feather flags are a great way to draw attention to your business. Our feather measure are 11-1/2 ft. tall and once installed on a flagpole stand about 15 ft. tall. The large size, bold colors, and fluttering motion of these flags make them an effective way to attract the attention of prospective customers. In our competitive marketplace, companies must seek out ways to stay ahead of the competition; Our feather flags are a cost-effective way to reach new customers who are passing by your business.
We are a comprehensive and direct source for stock message and custom feather flags. The stock message flags are screen printed in large quantities, which allows us to have a wide variety of high quality designs in stock and available to ship immediately at very low prices. We are also a leader in producing custom feather flags, which we print in the United States using digital printing, which enables us to offer fast turnaround times, while still maintaining extremely competitive pricing. We urge you to compare our quality and pricing to the competition. Whether you need one flag or five hundred flags, we have the capability of meeting your needs at extremely competitive pricing!
---
Custom Feather Flags
We are a direct source for custom printed Wind-Free and Swooper Feather Flags, both of which measure 11.5' x 2.5' and stand 15' tall when fully assembled. These flags make a large promotional impact at a very cost-effective price. We strictly specialize in these two popular styles and their associated hardware, which enables us to offer superior quality and lower prices than the competition! We custom print our flags in the United States, which enables us to offer speedy turnaround times and the highest quality printing possible. Our flags are digitally printed with durable Japanese inks on durable warp-knitted polyester fabric and are finished with a heavy-duty oxford sleeve. Feather flags are perfect for trade shows, soccer teams, ski resorts, or any type of business looking to create a dynamic display.
---
Custom Wind-Free Feather Flag
Custom Swooper Feather Flags measure 11-1/2 ft. tall (15ft. tall including the pole set) and feature a a sleeve which extends fully to the end of the flag so the message is fully visible even when there is no wind.
$79.95 ea.
Select Options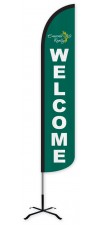 Custom Swooper Feather Flag
Custom Swooper Feather Flags measure 11-1/2 ft. tall (15ft. tall including the pole set) and feature a free-flying end that flutters in the wind. Digitally printed in full color using vibrant inks in the United States.
$79.95 ea.
Select Options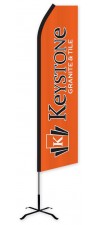 Swooper Feather Flags
Swooper flags features a unique "half sleeve" design which allows the flag to flutter in the wind. We have over 120 Swooper Feather Flags in stock and are ready to ship immediately. Made of high quality polyester fabric, our colorful flags all have a contrasting black sleeve which adds to the durability and long lasting appearance of our flags. Each flag comes standard with rope ties at the bottom of the flag to attach to the pole to keep it secure. These popular flags will flutter with even the most gentle breeze and will be a wonderful addition to the front line of any automobile dealership or retail establishment.
---
Wind-Free Feather Flags
Windless (Wind-Free) Feather flags feature a "full sleeve" design whereby the sleeve extends fully to the end of the flag. This makes the flag fully visible even when there is no breeze. Compare this to Swooper Flags which are only visible when there is a breeze. We recommend our Wind-Free flags for any application where there is minimal wind, including indoor use. We stock over 90 windless feather flag designs which are available for immediate shipment.
---
Feather Flag Hardware
We stock the finest quality Swooper Flagpoles, Wind-Free (Windless) Flagpoles, Ground Spikes, and Tire Bases. We strive to offer the heaviest, most durable hardware on the market. All of hardware is manufactured to our strict standards to outlast the competition. For example, our feather flagpoles are the same guage from the top section to the bottom section for maximum durability. Compeare this to our competitiors who often skimp by making the sections thinner as they approach the top of the pole. All of our steel bases are made with heavy gauge steel and all of the joints are fully welded for maximum durability. FInally, our steel bases are finished with a durable powder-coating and our aluminum flag poles are coated with an anodized finish. Compare our feather flag hardware and you will find that we offer the highest quality feather flag poles and bases on the market.
---
---
Screen Printed for Durability and Vibrancy
Our stock feather flags are constructed of high quality knitted polyester material and are screen printed with vibrant dye-based inks. We utilize a state-of-the art automatic screen printing press to print our designs with screen printing technology in
full color.
You will notice that many of our designs feature full color printing such as our rainbow flags and our auto dealer logo flags which feature the full spectrum of colors and shading. Most of our competitors are not able to achieve this quality of imprint with screen printing. Instead, they will use inferior digital printing. Screen printing offers the following advantages over competing digital printing technologies.
Screen printing offers the most vibrant inks. The inks used with digital printing are much duller and less vibrant.
Screen printing offers the highest degree of bleed-through and most opacity to the reverse side of the flag. Our flags are printed on one side, however, with our vibrant inks the design is very opaque and clearly visible on both sides of the flag. Digital printing also bleeds through but appears duller on the back side.
Screen printing is much more fade resistant than digital printing. Screen printed flags are the most resistant to the sun and the elements.
The difference in Buying Factory Direct
We are the designer and direct importer of this product line and offer one of the largest inventories of Feather Flags in the United States, with hundreds of in-stock designs at our Warminster, PA location ready for immediate shipment. All of our feather flags are finished with a durable black sleeve and black rope which hides dirt and keeps the flags looking great for a longer time than the competition. Our stock feather flags start at just $19.95 making them one of the most cost-effective and eye-catching advertising methods for your company. We recommend displaying multiple feather flags across the front of your business for maximum impact.
When you compare our stock flags side-by-side with the competition, you will find that the printing on our flags is more vibrant, the fabric and sewing are more durable, and the overall life expectancy of our flags are greater. We are the manufacturer and designer and have chosen the best fabrics, brightest inks, and have the strictest guidelines for the quality and craftsmanship of the sewing and packaging of our feather flags.
All of the stock flags displaying on our website were designed by our in-house art department. If you are looking for a dynamic and vibrant feather flag design for your business, let us put our artists to work for you. Look around at our designs - if you see something you like, these designs can be customized to meet your needs and desires.
Dye-Based Vs. Pigment-Based Screen Printing Inks
We use only the highest quality, longest lasting, and most vibrant dye-based inks. In recent years as environmental regulations in China have become stricter, some of our competitors have turned to pigment based inks to reduce their costs. Utilizing dye-based inks requires special water treatment equipment to alleviate the environmental concerns, thus lower quality companies have turned to inferior pigment-based inks which do not require the same equipment or expenses. Pigment based inks run onto the fabric so that there are not clean vibrant lines; Instead the ink blurs onto the fabric so that for example, red printing will make the fabric look pink.
Compare our graphics to the competition!
We pride ourselves in offering the most attractive stock swooper flags and wind-free flags on the market. You believe that will find that our designs have the most colors and most modern, dynamic graphics of any manufacturer in the marketplace. We are constantly working to improve our designs so that we stand above the competition.
We know that the differentiating factor that makes feather flags effective is how attractive and appealing the design is. These designs are going to be placed in front of your business, so it is important that they reflect upon your company in a way that you can be proud of. This means that the design of the flag should portray an image that is conducive to the messages of your company. Moreover, it is important that the flag be durable as a tattered and torn flag will reflect poorly upon your business. We urge you to compare our graphics to the competition - we are confident that you will find our designs to be more attractive. In some cases, the differences may be small, however, we are absolutely committed to offering the most attractive flags on the market.
Fast & Free Shipping
When comparing the prices of feather flags online, make sure to consider shipping costs and speed. We are conveniently located in Warminster, PA which gives us the competitive advantage to be able to ship to the east coast faster and at a lower cost than the competition. All of our stock feather flags and hardware are in-stock and ready for immediate shipment. Typically, orders placed before 3pm EST ship the same day.
We are the experts in feather flags!
There are many options of sizes and styles when it comes to feather flags. We have been a leader in this market for over 20 years and look forward to working with you on your project. If you need assistance selecting a stock or custom feather flag, please reach out to us by phone, email, or chat and we will be happy to enthusiastically help you grow your business!
We are the Low-Price Leader
If you are in need of a large quantity of custom or stock feather flags, please contact us directly by phone, email, or chat. We are the direct source for Swooper Flags and hardware and can offer discounted wholesale prices on very large volume purchases. Sign Shops, Flag Companies, Auto Dealer Supply Companies, and much more take advantage of our large selection, outstanding quality, and low factory pricing.
How to Use Feather Flags to Promote Your Business
Some ideas for displaying feather flags include:
Use feather flags as a way to attract attention to your business. The large size, bright colors, and attractive movement of feather flags is a great way to attract the attention of all those who pass your business. Consider placing multiple feather flags directly in front of your business or along the roadside to draw customer in to your establishment.
Feather flags can be used to announce special sales or promotional events. We offer an array of different color designs to coordinate with any business and announce any type of sale or promotion that you may be having. For example, if you need to promote a big sale, clearance sale, red tag sale, etc., we've got you covered with a flag of the appropriate message. Moreover, we have many different colored sale flags to coordinate with your company's colors.
Feather Flags are a great way to enhance branding. If you operate a franchise car dealership, we offer flags featuring nearly every automaker from Ford to Maserati. Moreover, we also carry the appropriate flags to coordinate with the certified used vehicles of most auto makers. If you operate another type of business, consider purchasing custom feather flags imprinted with your brand name and company colors to help ingrain your brand identity into potential customers minds. Custom feather flags can be used in conjunction with stock feather flags of similar or contrasting colors to create a customized display on a budget.
Stand out amongst the crowd at a trade show. Our stock and custom feather flags can be used in conjunction with our x-stand base and sand bag to create a dynamic display that works well to attract attention indoors at convention centers, expos, and trade shows. For indoor displays, we recommend choosing wind-free flags so your design is fully visible in the windless indoor environment.
Decorate for a holiday or special occasion. We offer a full range of patriotic USA-themed feather flags which ideal for decorating during the Memorial day and July 4th holidays as well as all-year-round-patriotic displays. We also offer flags geared towards the holidays season with "Happy Holidays" and "Merry Christmas" messages. Patriotic-themed feather flags, especially our USA design is especially popular since it is a close duplication of the American Flag and therefore is permitted in most townships.
Use feather flags as a way to communicate with existing customers about other services they may not be aware that you offer. For example, if you operate a Jewelry store, your customers might not be aware that you buy gold. If you operate a grocery store, your customers may not typically think of your Pharmacy services. If you are a new car dealership, customers may not be aware that you buy cars. Take advantage of the fact that it is much cheaper and easier to sell more services/products to existing customers than it is to generate new customers.