Custom Feather Flags
We custom print our Wind-Free (Windless) and Swooper Feather Flags in the United States, so turnaround is just 2-3 business day plus shipping time after your proof is approved. These flags are digitally printed on knitted polyester material with a heavy-duty black oxford sleeve. Our Feather flags are perfect for trade shows, soccer teams, ski resorts, or any type of business looking to create a dynamic display. We use only the finest Japanese inks and the highest quality polyester fabrics on our custom imprinted feather flags.
---
Custom Swooper Feather Flags
Custom Swooper Feather Flags measure 11-1/2 ft. tall (15ft. tall including the pole set) and feature a free-flying end that flutters in the wind. Digitally printed in full color using vibrant inks in the United States.
$79.95 ea.
Select Options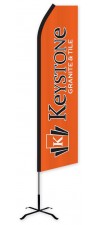 Custom Wind-Free Feather Flag
Custom Swooper Feather Flags measure 11-1/2 ft. tall (15ft. tall including the pole set) and feature a a sleeve which extends fully to the end of the flag so the message is fully visible even when there is no wind.
$79.95 ea.
Select Options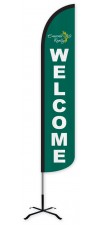 ---
Double-Sided Vs. Single Sided Feather Flags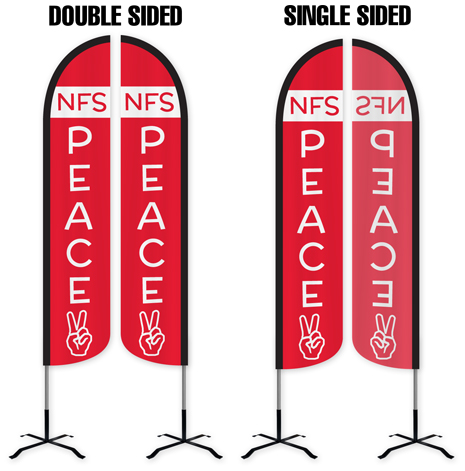 We offer our wind-free feather flags in double-sided or single-sided varieties, while our swooper flags are only offered in the single-sided variety. With a single-sided flag, the image is printed on one side of the flag and the reverse image bleeds through to the back. In contrast, a double sided feather flag is actually comprised of two flags which are sewn together with a liner in the middle. With double sided feather flags, the design is visible in the correct orientation from both sides.
Double sided flags weight more than double the weight, and therefore are not suitable for swooper flags since swooper flags are designed to flutter in the wind.
In most cases, a single-sided flag will be suitable, however, if you insist on having a message that is in the correct orientation on both sides, it may be worth the additional expense for a 2-sided flag.
Flag Stand Options
We offer three different bases to display your feather flag in a variety of different applications. Each of the options are constructed from heavy-duty welded steel and are powder coated to endure the elements:
Ground Spikes are the most popular stand option for feather flags. This base includes a spike which is installed into the ground and a tube that the feather flagpole slides into. These are used in grassy or earthy areas.
X-Stands Are comprised of two sections of fabricated plate steel the form a cross with a tube that screws in through the three sections. These are designed for use on any flat level surface such as asphalt, sidewalks, and indoors at trade shows. They are sold with a sand bag to provide the necessary weight to support the flag set.
Tire Bases are used for installation under the tire of a vehicle. These are typically use by car dealership. A line of feather flags installed with tire bases along the front line of a car dealership makes for a vibrant display.
Custom Feather Flags are Important for Your Business!
Custom feather flags are a perfect way to create, build and maintain customer relationships. They are a very direct, physical way of announcing your businesses' presence and to help attract customers. Our Custom Feather flags are printed with the latest digital technology to help you deliver your message in vibrant full color graphics. We can print graphics that are as simple or complex as you need using vibrant inks which creates highly detailed imagery.
Custom Swooper Feather Flags
The swooper design feather flag is ideal for outdoor placement. The fly or front part of the flag is free to flutter in the wind. This fluttering motion naturally draws the eye, attracting attention of drivers and their passengers.
The fluttering action has a similar effect to hands waving an invitation to enter. Once this has been noticed, your potential customer will then see the careful branding you have printed on your feather flag. The more flags you use to reinforce this branding, the more people will remember your business or event. Choosing a color scheme for all of your flags will allow you to introduce your branding and help customers begin to connect the colors with your company.
Custom Windless Feather Flags
Wind-free or windless feather flags are perfect for placement indoors. They are rigid, so your entire branding design is visible at all times. You can use these to reinforce and consolidate your brand message at a sales event or other social occasion.
Feather flags are a great way to build customer loyalty. Visual images persist in the human memory, and people associate them with good or bad experiences. By making sure the experience is good, your branding will work for you long into the future. High quality images, slogans and graphics make a strong impression on people. As windless feather flags are large, physical objects, they give you the chance to really make a lasting impression. Your customers and staff could be in close proximity to your feather flags and your branding for quite a while during an event, so you need to get everything just right.
High Value Advertising
Custom feather flags represent great value for money. The power of visual imagery is vital in terms of creating and maintaining your brand. TV, online, print and radio advertising are very expensive, and temporary. Custom feather flags are perfect visual cues which can be used time and again. By carefully choosing your designs and placing your feather flags intelligently, you can make the most of your advertising budget. They are an ideal way of making a good impression or welcoming customers who may have heard of your business through another channel.