Half Mast Widget
As a service to our customers and visitors of this site, we provide our Half Mast Widget free of charge, so long as you include a link to our website on the page where you display the widget. The half staff widget displays the correct half mast / half staff status of the American Flag, date, time, and American Flag Holiday and can be placed on your website for free.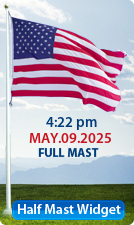 Live Version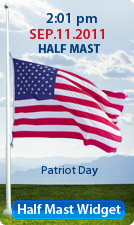 Half Mast Example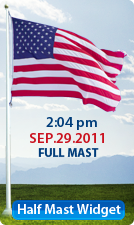 Full Mast Example
Directions:
Step 1: Insert the following code on your web site.
Half Staff Etiquette:
There are four US Flag holidays each year, when the American Flag should be displayed at half staff.
May 15 - Peace Officer's Memorial Day
Last Monday in May - Memorial Day
Sep 11 - Patriot Day
Dec 7 - Pearl Harbor Remembrance Day
It is proper etiquette to display the American Flag from sunrise to sunset. In the event that one chooses to display the US flag 24 hours a day, the flag should be illuminated during the night.
In addition to the National American Flag holidays, the President and State Governors may declare additional half staff flag holidays. Furthermore, the American flag is to be flown at half staff for 30 days after the death of a current of former President and for 10 days after the death of a current or former Vice President or Chief Justice of the Supreme Court.