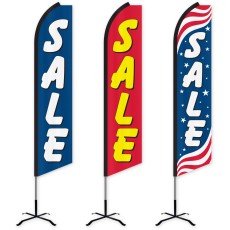 Marketing and advertising efforts can comprise of many different strategies including product placement, banner ads, social media – there is a myriad of ways you can promote your business. Each of these promotional methods aims to create a long-lasting impression on your customers and persuade them to take action at your company. Given the many choices for marketing, why should you choose feather flags for your business organization?
First Impression
Creating a friendly first impression is essential for the first meeting between your brand and your customer. Feather flags can be used to help introduce a business to potential clients and create a memorable connection with them. The Feather Flag's fluttering motion in the wind can be seen as a metaphor for the flag "waving" customers toward your business, making your potential clients more likely to take note of your organization. The presence of a feather flag also signifies the fact that you want to attract new customers. Sometimes people may feel apprehensive about entering a new, unknown business. An inviting swooper flag with a friendly message and attractive design can help to eliminate this anxiety and make customers feel welcomed.
Highlight Company Advantages
Generating a first impression and building brand awareness are important, but ultimately the goal of any business is to close a sale. To bring a customer closer to a purchase, it can be helpful to highlight particular advantages of your company. For example, if you are a car dealership that offers excellent financing opportunities, "wave" customers into your business with flags that promote We Finance or Buy Here Pay Here. Alternatively, if you operate an Auto repair shop, you may want to draw attention to the fact that you offer A/C Service during the hot summer months and Auto Alignment in the spring, when pot holes are likely to have taken their toll on many vehicles. Even if a customer is not looking for a particular service or offer at the moment, the message may stay with them and impact future purchasing decisions. Decorate
Colorful feather flags can help to improve the appearance of your business and generate a positive impression from potential customers. Coordinated flags can be used in conjunction along the roadside to create an attractive display that aligns with the company's colors, highlights a patriotic décor, or outlines some of the company's services. Feather flags also makecreative outdoor decorations during the holiday seasons and at company events.
Repetition
Repetition is used in marketing as a way to keep your business in potential customers' minds, build familiarity and influence buying decisions. The hope is that when a consumer needs to procure a certain product or service, your company or brand is the first name that comes to mind. By displaying feather flags in a prominent location, people will see your message numerous times, as they walk or drive by your location. Seeing your feather flag multiple times creates the connection in your customers' minds between your brand elements and your business and keeps your product at the forefront of their thoughts, helping to overcome consumer reluctance to purchase a product from an unfamiliar brand. Evoking the sense of familiarity with your product or service increases the likelihood of people choosing your organization in the future.
Cost Effective
Before considering any marketing plan, it is important to conduct a cost-benefit analysis. For example, traditional radio, television, and print advertisement usually demand a budget of thousands of dollars. For many companies, these expenditures are warranted, because they sell expensive products such as vehicles or carpeting, where in some cases a single sale will more than pay for the expense of the ad. In contrast, feather flags are extremely inexpensive and can generate a tremendous amount of attention, especially if your business is located in a well-trafficked location.You can leverage this traffic in order to gain the most advantage from your advertisement. Moreover, feather flags are a great complement to traditional ads and can reinforce brand-messaging in customers' minds. Feather flags are a cost-effective form of advertising that can be used to generate a positive first impression, highlight company advantages, and keep your business in customers' minds. As an example, imagine placement of three color-coordinated feather flags in a sequence, where the first one will say Welcome, the second - Quality Used Cars, and the third – Sale. This type of display can help to welcome customers, improve the overall appearance of your location, create awareness of your product line, and ultimately can serve as the impetus to a sale.